PRODUCTS FOR ROAD FUEL TANKER MONITORING
- GuardMagic JBB01
GuardMagic

JBB01

Two channel safety barrier for power and signal transmitting (EIA-485) to fuel level sensor GuardMagic DLLE1ct located in hazardous area (Zone 0).
1. ABOUT
GuardMagic JBB01 is a safety barrier for connection fuel level sensors located in hazardous area (Zone 0).


GuardMagic JBB01 can support up to two fuel
level sensors GuardMagic DLLE1ct.
GuardMagic JBB01 has an IP 65 anti vandal die cast aluminum housing.
GuardMagic JBB01 is designed with the EX equipments requirements (ATEX rules).
GuardMagic JBB01 has to be located outside hazardous area.


Advantages:

- Standard and heavy application;
- TWO outputs to hazardous area;

- Multi tanks support;

- Barrier serial connection;
- Anti vandal protection;
- Die cast aluminum housing
- Outdoor application
- Junction box functionality
- Compact dimension.
2. MAIN DATA
| | | |
| --- | --- | --- |
| | General | |
| | Input Voltage : | 11V ... 36V ; DC |
| | Signal communication Interface: | EIA-485 |
| | Nominal output current: | 0,07A |
| | Outputs to hazardous area | two outputs |
| | | |
| | Output intrinsically parameters | |
| | Open-circuit voltage, U0: | 10V |
| | Short-circuit current, I0 | 0,6A |
| | Max. external capacitance, C | 15,0 uF |
| | Max. external inductance, L0 | 1,0mH |
| | Communication interface: | EIA-485 |
| | | |
| | Operation | |
| | Operation area | non-hazardous |
| | Operation mode: | continues |
| | Operation pressure: | atmospheric |
| | Ingress protection: | IP65 |
| | Impact protection: | IK10 |
| | Anti vandal housing: | YES, die cast aluminum |
3. ABOUT CONNECTION STRUCTURE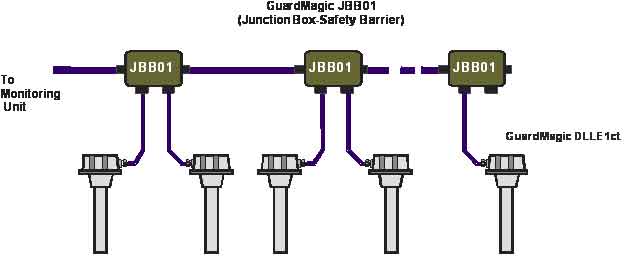 Download GuardMagic JBB01 leaflet